The screw spike, also called rail screw, it can be used to fasten the ribbed base plates and sole plates to wood sleepers. It can be used to fasten the SKL Clip to rails and will obtain high clamping force. It has better fixing power than rail spike or dog spike, which lead to it's widely using in many fastening system.
Main Function

The Screw Spike is used to fasten the base plate to sleeper, or the Rail Clips to the Steel rails.

Types

Variety types of Ss Screws, Double Head Screws, Big Disk Screws, Screws with ponity tails for wooden sleepers, etc.

Surface Treatment

Zinc, HDG, Plain oiled, Black Oxide, etc

Material & Grade

Grade 4.6 of material Q235, Grade 5.6 of material 35K, Grade 8.8 of material 45#, Grade 10.9 of material 40Cr.
Application for Screw Spikes in SKL System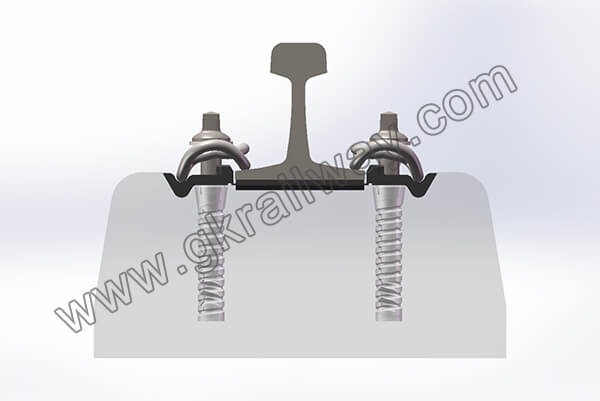 | Item | Component | Types | Material |
| --- | --- | --- | --- |
| 1 | Rail Clip | SKL1, SKL3, SKL14, SKL21 | 60Si2MnA |
| 2 | Screw Spike | Ss25, Ss35, DHS35, Ss8, etc | 35K/Q235 |
| 3 | Rail Dowel | Sdu9, Sdu25, Sdue S3 | HDPE/PA6 |
| 4 | Angle Plate | Wfp14k, Wfp21k | PA6+30%GF |
| 5 | Rail Pad | Zw600, Zw700 | EVA/TPU |
Types
Photos
Technical Specifications

Ss series sleeper screw

Types: Ss1/130, Ss1/150, Ss2/180, Ss5/150, Ss6/150,
Ss7/180, Ss8/150, Ss25/160, Ss35/160, etc.
Grade: 4.6, 5.6, 8.8, 10.9
Material: Q235, 35K, 45#, 40Cr, etc.
Surface: Plain, Zinc, HDG, Color Painted, etc.

3V Sleeper screw

Types: V20-135, V23-115, V23-135, V23-155, V23-215, V26-115.
Grade: 4.6, 5.6, 8.8
Material: Q235, 35K, 45#, etc.
Surface: Plain, Zinc, HDG, Color Painted, etc.

Double Head Screw Spike

This is to fixes the rail together with the Nabla clip system.
Mostly used in Europe and Africa.To meet the strict bending requirement,
special raw material is applied by straightening it without
any crack after bending 30 degrees or even more.

Sleeper Screw for wooden sleeper

Standard: AREMA
Size: 15/16×6-1/2"
Material: 45#
Tensile Strength: ≥120,000psi
Surface: Plain (oiled), Color painting, Zinc, HDG, ect.

Rail sleeper screws with big disk

Market: South America
Size: Diameter: 22mm &23mm; Length: 115mm&133mm&178mm
Material: Q235, 35#, 45#
Surface: Plain (oiled), Color painting, Zinc, HDG,
With over 20 forging machines, we are able to offer various Screw Spikes.
Our advantages:
Advanced production equipment, mature production technology and perfect quality assurance system
High production volume, able to produce with the fastest speed.
Mature management system with lowest cost, which guarantee the quality stability.
Competitive price with best service.
Do You Have A Railway Project We Can Help With?
GK RAILWAY
GK Group,  is an enterprise manufacturing railway fasteners, whose products cover fields of railway, urban rail, mining, etc.
There are two factories located in Zhangzhou Fujian and Anyang Henan, which are all CRCC and ISO certificated, with a total area of about 320,000 ㎡, workers over 300, and an annual sales volume of over RMB 200,000,000.
Founded in 1960, With over 50 years of specializing in railway fasteners, GK has served many demanding markets worldwide, including USA States, Chile, Argentina, Ecuador, Brazil, Thailand, Indonesia, Malaysia, Vietnam, Spain, Italy, Romania, England, Kazakhstan, etc.
Our Certificates
With ISO and CRCC certificated, Guokeng tries its full efforts to save cost for each client by upgrading our Production Equipment & Inspection Facility & Quality Management System to be more efficient, economy, and also with good quality control capacity. Quality and reliability are always our culture. We will never stop upgrading and developing, and will spend our whole life in delivering best quality and service.