Types of tie plate:
1. The tie plate can be either casting iron or casting steel, depending on the load and the type of rails. Cast iron can be the welded or fabricated type, depending on the customers' requirements.
2. The double-shoulder type is currently used. Older single-shoulder types were adaptable for various rail widths, with the single shoulder positioned on the outside (field side) of the rails.
Main Functions:
1. Tie Plate plate is used in rail construction to support the rails, and also to take the load of rail and distribute the load to the sleepers;
2. The railroad plate increases bearing area and holds the rail to correct gauge;
3. The railroad plate prevents damage of the sleepers due to rubbing action and holds the spike firmly to the sleepers.
Application for Tie Plate in SKL12 Clip System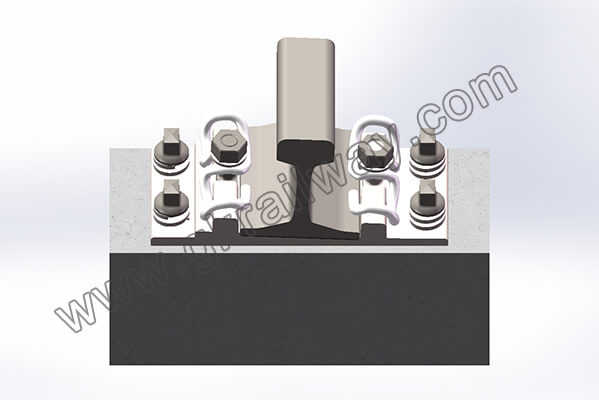 | Item | Component | Types | Material |
| --- | --- | --- | --- |
| 1 | Rail Clip | SKL12 | 60Si2MnA |
| 2 | Screw Spike | Ss8 | 35K |
| 3 | Rail Dowel | Sdu9, Sdu25 | HDPE/PA6 |
| 4 | Bolt&Nut&Washer | Hs32 | 35K |
| 5 | Rail Pad | According to customer's drawing | EVA/TPU |
| 6 | Tie Plate | UIC54/UIC60 | Q235/QT450-10 |
Do You Have A Railway Project We Can Help With?
GK GROUP
GK GROUP, which belongs to Nanchang Railway Buareau, is an enterprise manufacturing railway fasteners, whose products covering fields of railway, urban rail, mining, ect.
There are two factories located in Zhangzhou Fujian, which are all CRCC and ISO certificated, with total area about 320,000 ㎡, workers over 300, and annual sales volume over RMB 200,000,000.
Founded in 1960, With over 50 years specializing in railway fasteners, GK has served many demanding markets worldwide, including USA States, Chile, Argentina, Ecuador, Brazil, Thailand, Indonesia, Malaysia, Vietnam, Spain, Italy, Romania, England, Kazakhstan, etc.
Our Certificates
With ISO and CRCC certificated, Guokeng tries its full efforts to save cost for each client by upgrading our Production Equipment & Inspection Facility & Quality Management System to be more efficient, economy, and also with good quality control capacity. Quality and reliability are always our culture. We will never stop upgrading and developing, and will spend our whole life in delivering best quality and service.